Connecting and optimizing your entire waste & recycling network
We develop software solutions for companies and government organisations to manage your waste and recycling operations and reporting. Giving you real time analytics and reporting. Saving you huge amounts of time and money and reducing your project risk to a minimum.
Honoured to collaborate with these great organizations and cities
Advancing sustainable solutions for all
Superfy has been successful in delivering a wide range of sustainable smart waste and recycling solutions for numerous cities, municipalities, waste collectors and enterprises across the globe. Our customers have seen immediate benefits across their operations and have started their journey to digitization.
Sustainability – Track your net zero, circular economy and zero waste initiatives using global reporting standards.
Waste and recycling – Manage all your waste and recycling initiatives and processes, such as Extended Producer Responsibility (EPR), deposit return schemes, single-stream recycling.
Operations and workforce – Drive efficiency into your operations, workflow management and optimal use of resources.
Fleet and assets – Monitor the location and movement of all assets, optimize routing and navigation.
Sustainability
Asset Management
Weight Tracker
Reporting
Container Management
Routing
Real-time analytics and reporting
We empower organizations through our digital platform to achieve your business and sustainability goals. Our smart resource management platform supports the automation of your data capture, analysis and corrective actions.
Capture real-time accurate data on your resources in one centrally managed platform for all business units and sites within your organization.
Analyse the data and report on your key environmental areas of focus.
Enhance your organization's operational and sustainability performance with monitored measures of improvement.
Provide Deep Insights and Analytics
Reduce Operational and Infrastructure Costs
Reduce Environmental Impact
Digitize your emissions with a range of industry leading modules
Delivering solutions in areas of high environmental impact for your business.
Solutions for your

unique challenges
See how Superfy can advance your organizations goals and solve complex challenges with our tailored solutions.
Sustainability Managers
Empowering Sustainability Managers to reduce climate impact
City Managers & Urban Planners
Empowering City Managers to implement a smart waste city
Waste Collectors
Empowering Waste Collectors to increase services and productivity
Facility Managers
Empowering Facility Managers to optimize their labor resources
Finance Managers
Empowering Finance Managers to automate and deliver standardization across financial processes
Fleet Managers
Empowering Fleet Managers to optimize vehicle utilization
Plans to suit all teams
Get a flexible pricing based on your needs. Understand and learn about cost optimization, and request a custom proposal.
Lite
Create and manage your waste management assets with your smart bins
Team License
Predictive Collection
Collection History
IoT Enabled
Up to 100 Assets
Professional
Create, manage and analyse your waste management assets with your smart bins
Professional
Up to 1000 Assets
Routing
Weight Tracker
Reports & Analytics
Container Management
Vendor Management
Asset Management
Enterprise
Implement a customized solution for all your sustainability, waste and recycling workflow needs
All Professional Package
Unlimited Assets
Sustainability Reporting
Work Force Management
CRM & ERP
Telematics Integration
Fleet Management
Estates and Facilities Superfy supported DCU Alpha with their campus sustainability objectives and provided a potential cost saving of over 45%
So many of us are trying to live our lives more sustainably, whether this is making more conscious choices with our purchases of goods so they can last longer, or offsetting our carbon footprint after taking a long-haul flight. But, a more sustainable world requires more than this, and recycling batteries can contribute considerably to […]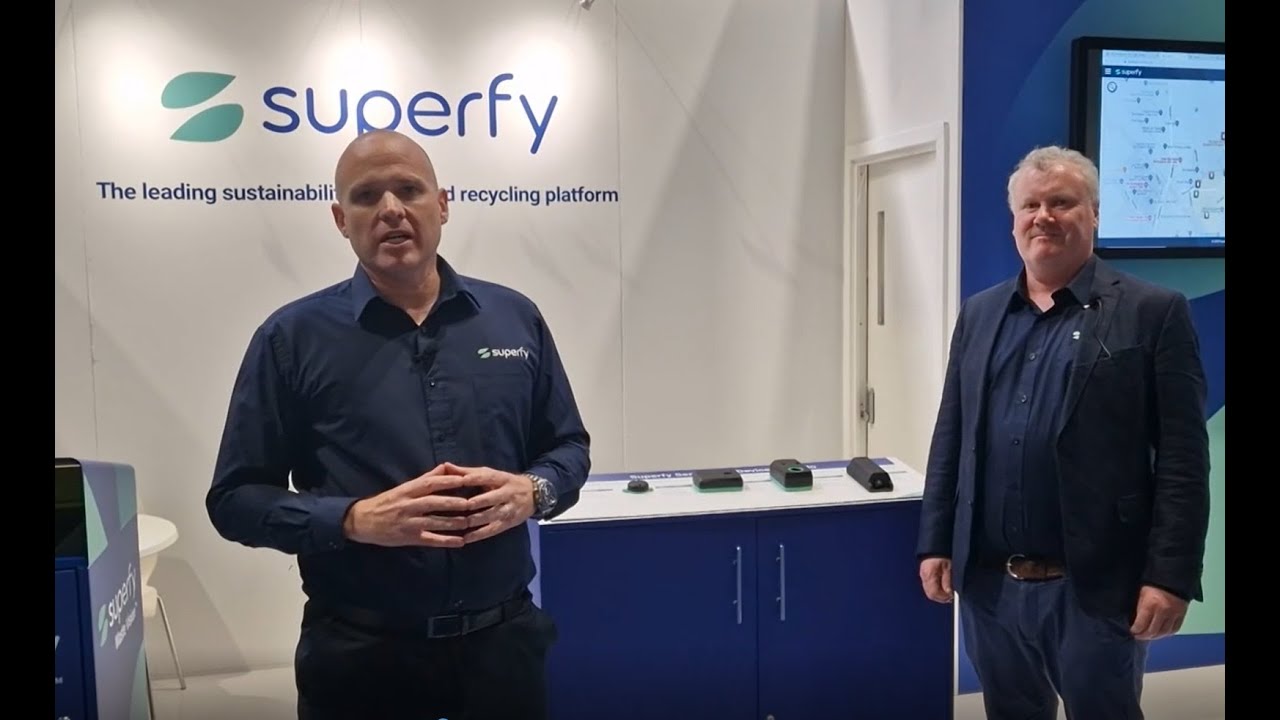 Watch CEO, Ronan Quinlan and COO, Leon Hayes discuss our recent participation at RWM Letsrecycle Live 2022. We had a great show, introducing the Superfy brand to the UK market. We had a lot of interest in our sustainability and traceability solutions, including single stream recycling and we look forward to progressing our channel partnerships in the UK.